Cloud Myths Debunked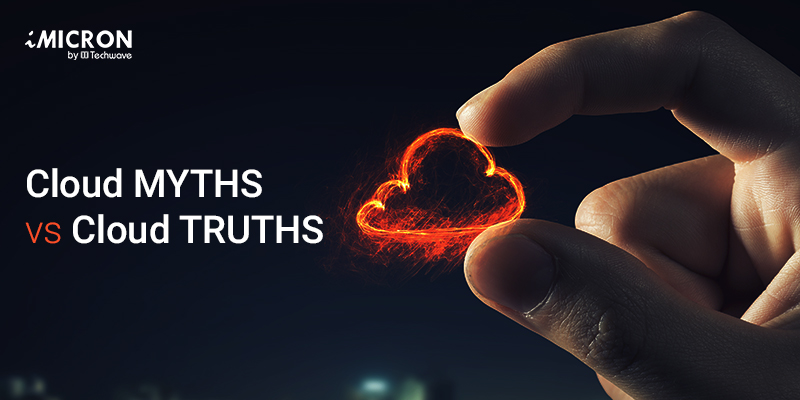 Data security and privacy are the major concerns when it comes to IT management. In the last 5 years, cloud computing has moved from one of the emerging technologies to one of the highly adopted technologies as a part of business strategy. With this, several opinions around cloud computing are taking shape. According to Gartner, the cloud services market to grow 18% in 2017 to a whopping $247 billion. Businesses moving from traditional IT infrastructure to Infrastructure-as-Service will grow to 37% and will reach to $35 Billion. Despite this, some of the businesses are reluctant to move to the cloud. There are a lot of misconceptions, and mistruths around cloud, and we are here to set the record right, by debunking the 8 cloud myths for you, making it Here are 10 cloud myths we want to debunk for you, making you more confident and informed with migrating your business to cloud.
1. Myth: Cloud isn't secure.
This is, in fact, one of the biggest myth. Cloud is perceived as less secure, but the truth is that it is more secure than your on-premise servers. A survey of cloud and on-premise solution users indicated that the number of cyber-attacks on on-premise, as opposed to cloud solutions, is twice. Cloud is more secure than on-premise data centers as they have dedicated teams of security experts, rigorous policies for regulatory compliance, third-party audits and automatic hardware and software upgrades.
2. Myth: Cloud is just a fad.
Cloud computing has revolutionized the way businesses work. The global market for cloud computing is growing 28% YoY and is worth at least $110 Billion. According to Gartner, a research and advisory firm focused primarily on IT, by 2020, corporate "no-cloud" policies will be about as rare as "no-internet" policies we see today. Many large organizations are already taking advantages of cloud computing by implementing robust security measure to keep their data safe.
3. Myth: Moving to Cloud is difficult.
If you have been using Facebook, Google Drive, Google Photos and iCloud, you have already experienced the ease of signing up on cloud and moving your personal stuff to the cloud. Similarly, switching from traditional IT to cloud is simple and easy, with proper planning. Migrating to the cloud can have little bumps but having a proper plan and strategy and the right solution can make it easy for you. Hiring a third party to help you migrate to the cloud can make this process smooth for your organization.
4. Myth: The cloud is unreliable.
One of the major issues with on-premise IT infrastructure is that they are prone to human error or it can be a storm or when you are moving your office, you have to move your on-premise IT infrastructure also which means shutting all the system. With the cloud, this doesn't happen. Most of the cloud providers guarantee 99.99% uptime.
5. Myth: One size fits all solution.
No one cloud solution fits the need of every organization. One of the advantages of cloud computing is that it can be customized as per an organization need. Depending on your requirements you can consider public vs. private cloud or may a hybrid cloud. While choosing a cloud service provider you can consider the range of services you need, level of support you need, availability zone, performance guarantee, and cloud lock-in options.
6. Myth: Maintaining Regulatory compliances.
One huge concern with the business is to compliance with industry-specific regulations. Most of the businesses believe that compliance requirement cannot be met on the cloud. But the truth is that it's easier to meet compliance standards when using the cloud, provided you have the right cloud service provider.
7. Myth: Cloud is expensive.
Most of the organizations, hesitate to adopt cloud thinking there is a huge cost involved in migrating to cloud. But this is completely wrong, Cloud is one of the most affordable technology compared to on-premise IT infrastructure. The hidden cost for IT Infrastructure like installation, licenses, updates, maintenance etc goes unnoticed. Whereas in the cloud, you only pay for what you use, there is no investment required for hardware and updates.
8. Myth: I'll have no control over my data.
One myth surrounding cloud is that the organization will lose control over their data if they move to the cloud. But the fact is, even if you move your data to the cloud, you still have full control over your data (which is protected with encryption). When choosing a cloud service provider, ask them where the data center is located, and if it is a public or private cloud environment. As an add-on service, many cloud service providers also offer constant monitoring solutions to identify any potential threat to their customer's data.
 OPEN THE WORLD OF OPPORTUNITIES WITH CLOUD
Moving to the cloud has a lot of potential like reducing IT cost, more security, mitigate data loss and risks. Cloud offers greater scalability, flexibility, and agility to the organizations. By partnering with the right Cloud Service provider, you can open a world of opportunities for your organization. As you move to cloud, remember to know the truth and not follow the rumors and myths to make your journey to cloud a success.
Need more information? Send us an email at contact@imicron.com and iMicron cloud experts will get back to you.